There are many adversities, obstacles, and other factors to which may deter you from pursuing your goals, dreams or even desired targets or objectives. For Cherelle Thompson, the first female Trinbagonian to clock sub 25 seconds and current national record holder of both the short course and long course 50M freestyle event, it was and is no different. In fact, it can be even more demanding for a female, a student, and an athlete brewed into one.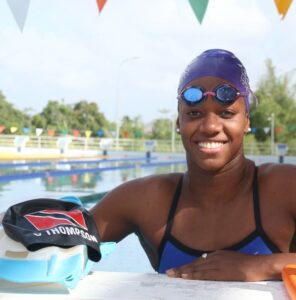 "You know being called different names from 'She-Hulk' to just flat out being called a boy … or you know the different things people may say or reference to tarnish your personal image … these are just some of the adversities women face in sport."
Detailing her personal experiences, Thompson said, "It was something I had to evolve and grow into … (accepting my role as a female in sports) … because whilst growing up and being very athletic as well as loving to play different sports like street cricket or football, I have been called masculine names many times as a young girl and that definitely played on my psyche."
The 28-year-old national swimmer elaborated on the strategy she incorporated into her character to establish herself in her professional medical and sporting careers. "It was definitely something I would have embraced as an older teenager … like who I am, where and why was I created …  and once I really accepted and loved myself for who I was, that really made a difference towards my own confidence. This helped me with my success to continue within the sport and focus on doing what I love," Thompson expressed.
Currently furthering her medical studies at the University of the West Indies (UWI), Thompson noted, "Aside from the body image, as a female, being able to balance the pursuit of academic goals or furthermore, a professional career, would have been viewed as out of the norm because they would usually be directed towards seeing about the household and become a housewife or something."
However, Cherelle Thompson always had big aspirations. She had the dream of being a medical doctor ever since she was a girl and now, she is pursuing her intended goal. Not only did she think being in the arena of science was pushing beyond the norm, but she also paired this with the challenge of chasing after another lifelong dream… qualifying and competing in the Olympic Games.
Thompson started swimming at the age of four with her sisters. Looking back, it has now been over 20 years since she started swimming competitively. Within this period, she represented Trinidad and Tobago on the international stage at FINA World Championships and Pan American Games, with semifinal and final performances at the Commonwealth Games and the Central American and Caribbean (CAC) Games respectively. In 2010 she was awarded the Junior Athlete of the Year by the Trinidad and Tobago Olympic Committee (TTOC).
Her career undoubtedly took flight at the collegiate level after she received a swimming scholarship to the University of Tennessee (UT Sports). There she represented the college at many events, both individually and on the relay teams. However, at the start of her college career in 2012, Thompson faced another hindrance as she had to undergo surgery to repair a torn labrum and detached bicep on the right shoulder.
But by being resilient, Thompson did not let this injury deter her from losing focus. After she recovered successfully, as a UT Lady Volunteer, she became a two-time All American and All-SEC (2nd team) awardee following her high-point performances as a double SEC medalist, and NCAA finalist in the 200m freestyle relay and individual SEC finalist in the 50m freestyle.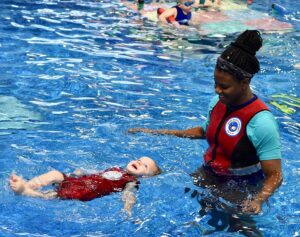 Thompson concluded her collegiate career with a smashing 2016 Olympic B qualification in the 50m freestyle. Since graduating from her pre-med college in 2016, Thompson has been delaying her medical career in order to focus solely on her athletic goals of qualifying for and competing at the Olympic Games.
In November 2019, the talented swimmer smashed former TT Olympian Siobhan Cropper's 19-year 50m freestyle record of 25.32s, when she touched the wall in 24.89s at the National Open Short Course Swimming Championships. With this performance in the 25m pool, Thompson became the first woman from the twin Island Republic to clock under the 25 seconds in said distance.
Thompson then followed up with another record-breaking showing in December 2019, shattering Cropper's 22-year 25.89s record reign, with a sleek 25.52s performance at the long course meet.
In January 2020, part of Thompson's dream came true when she became TT's second swim athlete, following her compatriot Dylan Carter, to qualify for the 2020 Olympic Games in Tokyo, Japan. During the TYR Pro Swim Series in Knoxville, Tennessee, Thompson (age 27 at the time) achieved the official Olympic 'B' qualifying time of 25.51 seconds, by clocking a blistering 25.39s in the Women's 50m freestyle.
This impressive showing also saw her splash to a new national record, wiping away her own previous time of 25.52s, set at an Amateur Swimming Association of TT (ASATT) Invitational Meet at the National Aquatic Centre, Couva.
Then came the COVID-19 pandemic along with the cancellation of competitions and the postponement of the Olympic Games. When asked how she coped with the setback of everything as it related to the pandemic, her expectations and training, Thompson said, "COVID has been a blessing in disguise for me as both a medical student and an Olympic athlete because without COVID restrictions, I would not have been able to study and properly train before the Olympics, thus it would have led me to postpone my academic career for the third time."
She detailed, "It presented a new and unique challenge along with the decisions I had to make. However, I moved in faith and believed that God will give me the grace to manage in the face of all the adversities and that things will work out."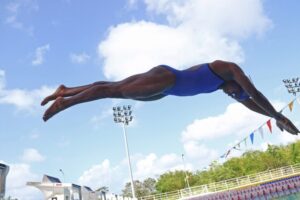 Since then, with the availability of online classes, she completed one semester and is well into her second semester at the UWI. She explained, "The benefit of having online classes is I am able to put in my training in the pool, at the gym and still be able to attend classes and write my exams once I have internet access. This is the blessing in disguise, that I can focus on both my academic and sporting career."
When she is not studying to become a doctor and swimming for a medal, Thompson can be seen instilling and training infants, toddlers, and preschoolers in acquiring foundational aquatic survival skills and stroke techniques at Infant Aquatics. Combined with her education in child development, behavioral psychology, anatomy, and physiology. Thompson's undergraduate degree in Kinesiology compliments the experiential knowledge as an athlete and the comprehensive training in becoming a certified Infant Aquatics instructor. She is also looking to enhance the number of people who know how to swim from a tender age.
Thompson is looking towards the US for competition to ready herself for the Olympic Games set to begin in July. We wish her the best of luck as Thompson will be ready to represent Trinidad and Tobago in the pool at the games in Tokyo.