Ever since Naim Mohammed knew himself, he was always quite active and involved in some sort of physical activity whether it be playing sports around the neighborhood with friends or in school. He recalls playing a lot of football and cricket at TML St. Joseph primary school. However, it was only when he entered the gates of St. George's College where he was introduced to the sport of badminton. Mohammed participated in many other extra-curricular activities he liked but always gravitated to whichever he felt most comfortable playing or the sport where most of his friends went off to play.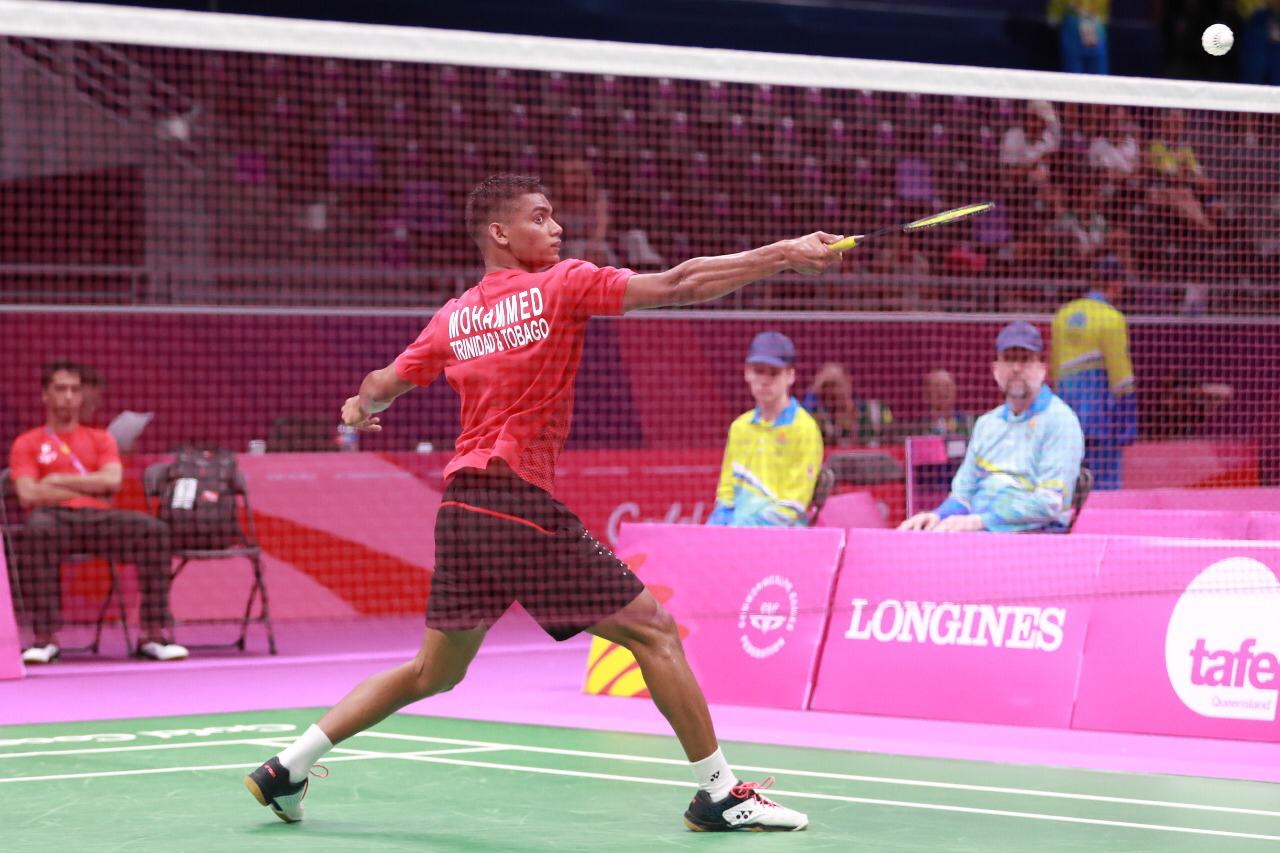 The football field was where he ended up most of the time, however, he noted there were much more experienced, stronger, and fitter players than himself on the field. He then switched his attention to both cricket and badminton, joining the clubs available at the school and juggling both activities.
He said, "I had a lot of friends in both sports. I was playing U-14 and U-16 cricket for the school while still participating in the U-15 badminton category at that time." At one point Mohammed conscientiously decided to attend more of the badminton sessions for practice and spent more time on the court.
After recognizing his interests in the sport, his mother mentioned to him he that had a 'second cousin', Kiran Seenath, who plays badminton professionally for a club in Caroni and if he wants, she would have introduced them officially. He stated, "I did not know anything about this cousin before and I also did not know badminton was a sport outside of school." After they met, Seenath told Mohammed that he would take him to the Central Badminton Academy and Club to see if he is comfortable with the environment and whether he would be interested in joining the club itself.
Mohammed detailed, "From the first day I was attached and told them I wanted to play more often. I signed up on paper and committed to train four times a week, three hours per day." Mondays, Tuesdays, Thursdays, and Saturdays were the days he trained at the club after school. Within the year he joined, Mohammed was selected to compete in the Caribbean Championships held in Dominica Republic.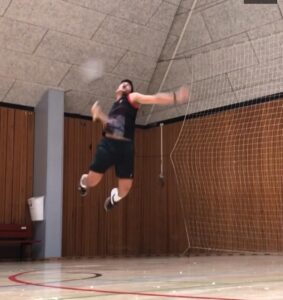 He continued, "I just kept growing and growing within the sport, getting better and better, leading me to compete more at competitions both locally and regionally." He then went to another Championship event in Suriname, and it was from this experience Mohammed realized the sport of Badminton had such a large international fraternity. He then made the decision to solely focus on his badminton career by training harder and competing in more competitions globally.
He noted however, during his time in school, being a professional athlete was not in his primary focus. Mohammed said, "When I was writing CXC I did not really think of a professional career yet. I was thinking short-term like which tournament should I enter next. However, I always saw myself in a bigger picture when it came to badminton, but I never thought of it as something big to pursue professionally back then. But, I was so committed to being an athlete no matter what that I would always want to train hard and give my 100% whenever I was on the court."
He took six weeks off his training schedules to prepare for his examinations stating, "Of course, it was hard to balance both training vigorously while preparing for upcoming examinations." He expressed during that period, he longed for the exhilarating feeling of being on the court compared to being stuck behind a book revising.
As soon as he completed his exams Mohammed started training again and made up his mind to pursue badminton full time. In 2014, during his final year in the Under-19 age category, he decided to push for a Youth Olympic Games berth in Nanjing, China. Unfortunately, he did not qualify for the event, however, he broke into the Top 100 Juniors Rank in the world for the men's singles discipline, peaking at 83. This was also as a result of his participation and podium finishes in other competitions around the region and in South America, throughout the same year. It was then Mohammed also broke into the Top 10 national athletes recognized at the First Citizens Sports Foundation Awards. "These awards were all very new to me, but it motivated me a lot more from then on."
The first time he represented Trinidad and Tobago was in 2012. He detailed the memory of his mental preparation for the event back then which he embedded into his philosophy whenever he steps onto the court draped in the Red, Black, and White. "One key thing I always told myself when I first began flying out to represent the country was, I want to put the T&T flag on the badminton map and let it be known that we are here or was here, and whenever we are here it will be known that we were here. Whenever I make the podium, I feel accomplished in that goal because the flag is up, and we have a medal!" he stated.
Currently, Mohammed is flying the national flag in Denmark where his badminton and sporting journey continues. After a trip from Malaysia in 2016, Mohammed was not at his best, both physically and mentally. He hardly competed in competitions and gathering sponsors to continue pushing for his dream was tough to source. He detailed, "A lot of things changed then with Badminton, my game and even myself. I ended up reaching a point where I was searching for something to do with my life. My passion for the sport was never lost though, and in 2017 I had this serious urge from the inside that I have to go to Suriname to compete and put myself out there again, to get the feeling of competing again abroad."
He continued, "Once I had experienced that feeling again, I knew it would ignite that something to keep pushing me to better and better." So said so done. Mohammed went to Suriname and there he met and networked with the former head coach of the Netherlands, Martijn van Dooremalen, where the coach sent various training programs and activities for him to utilize to enhance his game.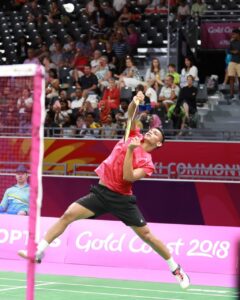 Mohammed went to the National Racquet Centre, in Tacarigua where he practiced these routines and sent videos of his trainings back to the coach for feedback and analysis. In 2018, he went to the Commonwealth Games held in Australia, and got to the second round of the competition which was a major feat for an individual from the Caribbean at these games, especially in the sport of Badminton. Mohammed felt a sense of pride after this achievement as he also saw his all-round performance improved significantly.
After the event in Australia, he saw one of his badminton colleagues training in Denmark via social media and inquired about the programs available. His friend told him to contact the coach overseeing the program and Mohammed negotiated a deal with the coach to play and train for Ikast FS (Idrætshøjskole) Badminton Club while taking up residence at the sporting school. ISI Sports High School and ISI Sports Boarding School are based in Denmark and offers several attractive sports courses coupled with their unique facilities.
Speaking about his ambitions when he made the decision to chase after his calling, Mohammed stated, "My goal for this was to go to play and learn more badminton but most importantly to enjoy the experiences and the journey itself of living in a different country, learning their styles and culture."
His first season was not the best due to him having to climatize and understand his new way of life. He took each experience, both on and off the court, and added it to his learning curve for the following seasons. Mohammed rates his second season as his best thus far due to his form, being more aware of the surrounding environments and the system itself.
He elaborated, "When I first came here, I had to adapt, and a lot of big changes had to be made in terms of my game, attitude and mental aspect. Even stuff like the food, weather, the timing of training sessions and basically my entire way of life had to be adjusted to the way how they do things over here."
Despite starting his third season stronger than any other, it was unfortunate for Mohammed when the season had to be cut short due to the covid-19 pandemic. Mohammed noted all training activities were also stopped officially for 75 days, however, he stayed on the campus and provided kitchen services for the younger international student athletes since they were stuck as the international borders remained closed.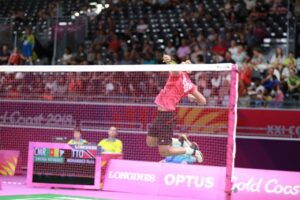 Mohammed left a word of advice for aspiring individuals and those who may have a passion or dream for a sport or any other professional goal by stating, "Never give up and keep striving! Keep your mind open to options and even if you have an opportunity, remember it takes a lot of hard work, discipline, energy and sacrifice."
We wish Naim all the best in his professional career in Badminton and his journeys of flying T&T's flag proudly, wherever he goes.