When Zoe and Zachary Anthony were four and two years old, respectively, their parents took them to YMCA in Port of Spain where they learned the basics of swimming and mostly the Freestyle stroke. After this, they shifted across to Marlins Swim Club and started off there at the beginners' level. Little did their parents know that the Anthony siblings would turn out to be multiple national record holders a few years later.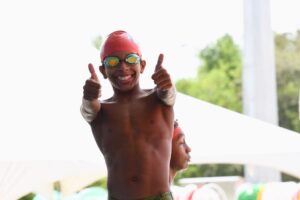 At Marlins Swim Club they were both introduced to the other swim techniques such as Butterfly, Breaststroke, and Backstroke. One year later, Zoe advanced to the larger pool and swam her first competitive race at age six where she recalls being nervous heading into the 50m Backstroke event.
Speaking about her initial introduction to swimming, Zoe stated, "My parents wanted us to learn how to swim especially since our dad was a competitive swimmer. I remember being nervous at my first meet and swimming out of Lane 1."
One year later, Zoe qualified for the Goodwill Swim Meet held in Barbados and won the High Point trophy in the '8 & Under' age group. Being the first international event for her, she noted, "It was a great experience for me to swim against regional and foreign athletes for the first time, hearing all of the different accents. Also, the transition of having to swim with the athletes you are usually swimming against for your club, on the national team, taught me teamwork and other skills as relates to the sport and many aspects of life."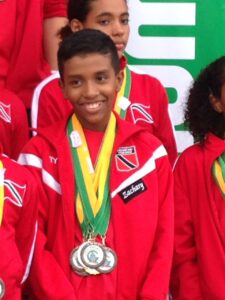 Zoe managed to qualify for the Goodwill tournament each year until she was able to attain the standard qualification time and age to be legible to participate at the CARIFTA Games. In 2017, she achieved this goal and competed in both the CARIFTA and CCCAN Games every year since then. Unfortunately, both the 2020 and 2021 Games were postponed due to the ongoing COVID-19 pandemic.
Breaking national records and personal bests is something that came as a second nature to Zoe in the pool. She currently holds the national record for nine short course events namely, the Girls 8 & Under 100m IM (1:22.09), Girls 9-10 100m IM (1:13.88), Girls 10 & Under 200m IM (3:02.26), Girls 10 & Under 100m Backstroke (1:28.92), Girls 10 & Under 100m Breaststroke (1:22.30}, Girls 11 & 12 50m Butterfly (29.80), Girls 11 & 12 400m IM (5:20.90), Girls 11 & 12 100m IM (1:09.91) and the Girls 13 & 14 100m IM (1:08.88). She also holds the long national long course records in the Girls 9-10 100m Breaststroke (1:24.96) and the Girls 9-10 50m Breaststroke (38.36).
Zoe expressed, "In swimming it is really difficult to lower your times, even by just a millisecond therefore whenever I lower my time, or even break a national record, it feels great, but I am always surprised in the moment." She continued, "I definitely would love to see myself on the podium holding the flag representing T&T in any of the competitive swim meets I participate in. It makes me proud to bring success at major tournaments, and I know my country will be proud so I will always give my all in the pool. I will also try to travel the world and experience new cultures, such as Japan's."
Following in her footsteps is her younger brother Zachary as he copped a couple records himself. He holds the national long course record in the Boys 8 & Under 50m Butterfly (34.08) and the Goodwill Boys 11 to 12 200m IM record (2:35.53).
He currently trains with the older swimmers at the club such as Nikoli Blackman and tries to keep up with them as he eyes qualification times of his own. He said, "Even though it is challenging, I know I have to push through it to develop and swim faster." However, Zachary is no stranger when it comes to swimming against older and stronger competitors. From the time he entered the pool, he always tried to keep pace with his sister Zoe.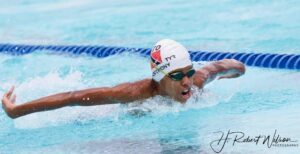 With being the national swimmer she is, and competitiveness in her nature, Zoe never allowed Zachary to win but he always persisted. Zachary gave an insight to his mindset and motivation by stating, "It is mental. You have to focus; you cannot just say you give up and just stop. You have keep moving on!" This was evident as he kept sharpening up his times as recorded by his father and coaches. Zachary indicated the gap has shrunk notably between his sister's victories and hinted of races where he got the better of her, especially in his pet Butterfly event.
Zoe expressed, "Before I used to beat him a lot but now since he is going through puberty, he is getting taller, growing longer limbs, and becoming stronger. So recently, he is catching up to and sometimes even beating me in certain races. I knew it was going to happen anyway! But I am proud he is doing well in his races and age group."
Both siblings usually wake up at 4:30am daily for either pool or gym training sessions at 5 o'clock, then head to school. This is then followed by evening training sessions or lessons, depending on the day and examinations. However, this schedule was modified during the pandemic. Since athletes are now only allowed one hour in the pool to train during the day, the siblings attend their pool trainings at 2pm while implementing gym and strengthening exercises in the morning at home before attending their online classes.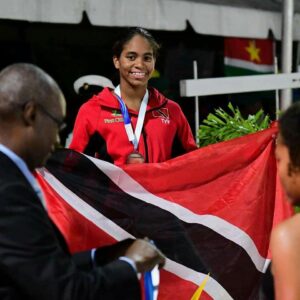 Zoe elaborated, "Of course, none of this would be possible without the support from our parents as they are the ones to carry us to and pick us up from training, school, and lessons as well as they also wake up with us and provide the necessary meals and means for us to be able to compete at this level."
She continued, "Whenever I finish a race and knew I did well, I always look up to my dad and family in the stands because they are always there at the swim meets supporting us. Having a strong support system is very important because without it, I do not think we could have made it this far."
Zoe is now fully focused on her CSEC examinations and trying to secure her education. She plans on attaining a swimming scholarship to a university where she can continue to excel both in the pool and academically. Zoe is currently qualified for the Pan Am Juniors, however, she is not sure whether the tournament would be held, postponed, or cancelled. She also eyes the World Championships and Junior Olympics as competitions she can berth into as well as the Olympic Games being the ideal destination.
We would like to wish the Anthony siblings the best of luck as they continue to represent Trinidad & Tobago in the pool.