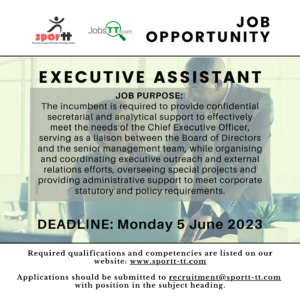 COMPETENCIES:
We are in search of a team-player who has integrity, is results-oriented, possesses strong analytical skills, and great flexibility.  Skills in records management, modern office practices & procedures, customer service, and experience dealing with multiple stakeholders are necessary. Considerable knowledge of relevant State Enterprises' guidelines and experience in preparing statutory submissions is welcomed.
***
If you think you possess the required competencies, kindly submit your application no later than Monday 5 June 2023.
You may apply on JobsTT or directly to SporTT. If the latter, applications should be submitted to [email protected] with the position in the subject line.
Unsuitable applications will not be acknowledged.