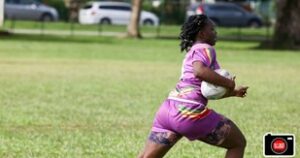 From representing Trinidad and Tobago at numerous international tournaments since the age of 13, including the Central American and Caribbean (CAC) Games, to leading the Under-18 female contingent at the Commonwealth Youth Games in the Bahamas as the skipper… Fayola Jack is spreading her wings while on the way to success in the sport of Rugby.
The 20-year-old Scarlet became the youngest active member on the Senior Women's National Sevens Team at the Rugby Americas North (RAN) 2020 Olympic Qualifier in the Cayman Islands and later solidified her spot in the Pan American Games held in Lima, Peru in 2019.
Jack offers to the team a level of professionalism, aggression, fearlessness, and skill that makes her an integral part of the squad. Her talent was recognized for this purpose when she was nominated for the First Citizens Sports Foundation Youth Player of the year 2018 for the sport of rugby.
Her father, Rudolph Jack, founded and is currently the president of the Rainbow Sport and Culture Club. Hailing from the community of Bayshore which is primarily associated to be part of the 'trainline' in Marabella, the Jack family saw the sport of rugby as a means of steering the young people away from a life of crime.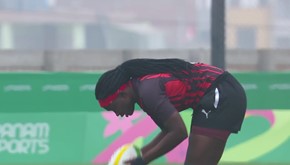 The challenges in achieving this vision have been many and varied over the years, but with the valleys also came the mountains.
Being the youngest of ten siblings, eight of whom are also rugby players, it is as though Fayola was destined for this course. The love for the sport, hard work, dedication, and discipline have certainly started to bear fruit in an environment where many may say is less conducive for success.
"I began to play rugby at eight (8) years old and I fell in love with it from the moment I started playing. In secondary school I got involved in other sports like netball and football and that is where I basically said I had a love for sports on a whole, but rugby was the only sport I wanted to pursue a career in," she said.
However, her journey officially began at the age of 12 when she went to the national trials and by the age of 13, she booked her first tour to the Cayman Islands with the national Under-14 team. Since then, Jack notably applied her trade on the Rainbow Rugby Club team and has consistently represented the country throughout the different age groups at various tournaments.
This was not by any means an easy task as she expressed, "Basically, being in form one and representing the national team was something I really enjoyed, knowing I was representing the country doing what I love, but by forms three, four, five, it became a little more challenging."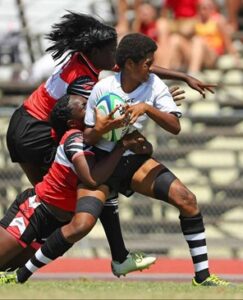 She detailed, "Travelling from school in Marabella to head to training in Port-of-Spain, then to travel back home in traffic, eat, bathe, and do homework before the next morning used to be tough. After a while I devoted most of my attention to Rugby and shifted away from school at a point in time. Then a year before my CXC exams, I took a year off from rugby, the national team, and competitions to focus on my studies."
Jack had to remain motivated and focused throughout her journey and she gave an insight as to where the source of her energy, passion and love for the sport came from. She said, "I believe my dad gave me that motivation from a very young age when he noticed people recognizing me, he helped me to realize the importance and knowing the value of representing the national teams by using feedback from coaches and others who may be looking on to enhance myself for a better way of life, through Rugby." This encouraged Jack as she applied herself to continue shining throughout the various national age groups and used it as an example for other athletes to adopt within the sport, both younger and older.
Another factor is Jack's belief in herself and her ability. This can be seen through the multiple sacrifices and the numerous hours she spent on perfecting her talents as a Flyhalf and Centre. "Basically, I want to pursue a career and a life in Rugby because I have dedicated so much time, effort and resources into it. I am working on being out there, playing for a club and becoming a professional rugby player, that is my main dream for a better life. I just have to be consistent, dedicated and humble," she declared.
This never-give-up, never-back-down mindset was then tested once more when she realized it had no hope for rugby action in Trinidad & Tobago last year due to the Covid-19 pandemic. Nevertheless, being as resilient as she is, Jack did not let this dampen her physical training or her mental mindset.
She said, "During the pandemic I never stopped training. Whenever I posted or shared videos of training, I also got a lot of feedback from others who said they were using it as a form of motivation to stay healthy and fit. This also inspired me to continue working and pushing myself despite not knowing when we would be able to take to the field again." Jack took this as an opportunity to start her own home gym and Fitness Centre right at her Marabella residence by using her own equipment and following COVID-19 protocols.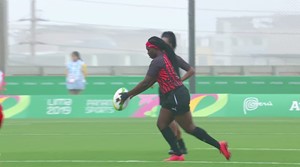 The young scarlet left some words of advice for anyone who may be trying to pursue their passion as she stated, "Keep working, keep praying but most importantly put in the work, do whatever it takes for you to give your best effort and never give up. Just keep on improving yourself every time."
Jack is one of the nominees in contention for the 2020 First Citizens Sports Foundation Sports Awards carded for Sunday March 29th, 2021 (this Sunday). We wish her all the best in her career as she continues to represent and excel for our twin Island Republic in the sport of Rugby.