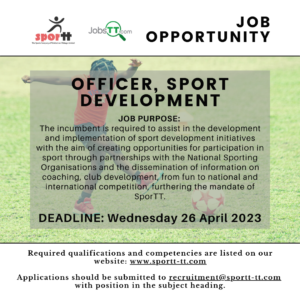 COMPETENCIES:
The incumbent is required to assist in the development and implementation of sport development initiatives with the aim of creating opportunities for participation in sport through partnerships with the National Sporting Organisations and the dissemination of information on coaching, club development, from fun to national and international competition, furthering the mandate of SporTT.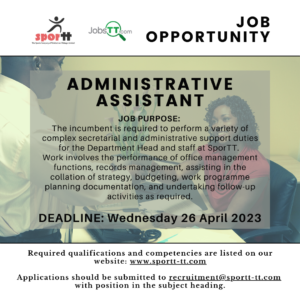 COMPETENCIES:
The individual should be results-oriented, has sound written and verbal communications skills, coupled with highly developed interpersonal skills and sound time management skills to ensure multiple tasks simultaneously are completed within compressed timeframes.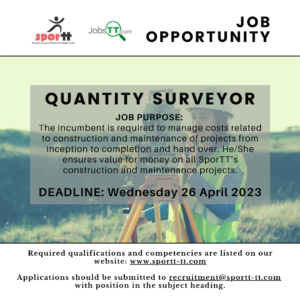 COMPETENCIES:
We are in search of a team-player who is, results-oriented, possesses strong analytical skills, and great flexibility. Skills in personnel management, leadership, customer service, budgeting, and experience dealing with multiple partners and stakeholders are necessary.
***
If you think you possess the required competencies, kindly submit your application no later than 26th April 2023. Applications should be submitted to [email protected] with the position in the subject line.
Unsuitable applications will not be acknowledged.