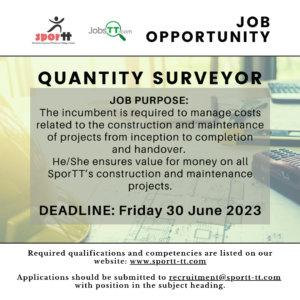 MINIMUM QUALIFICATIONS AND EXPERIENCE
A recognized University degree in Quantity Surveying
Training as evidenced by accreditation by the Royal Institute of Chartered Surveyors (RICS) and the Chartered Institute of Building (CIOB)
AND a minimum of five (5) years of experience in quantity surveying or any other related field
Proficient in MS Office 365

Would be considered an asset

Experience working in the Public Sector environment.
Or any equivalent combination of qualification and experience.
COMPETENCIES
We are in search of a team-player who is, results-oriented, possesses strong analytical skills, and great flexibility. Skills in personnel management, leadership, customer service, budgeting, and experience dealing with multiple partners and stakeholders are necessary.
***
If you think you possess the required competencies, kindly submit your application no later than Friday 30 June 2023.
You may apply on JobsTT or directly to SporTT. If the latter, applications should be submitted to [email protected] with the position in the subject line.
Unsuitable applications will not be acknowledged.